Cocktails at Forge & Foundry Distillery, located in Stillwater, Minnesota • Photos by Jordan Wipf
Seeing residents and visitors to Stillwater, Minnesota, sitting on the patio facing the winding St. Croix River, enjoying a glass of their handcrafted spirits is exactly the reason Forge & Foundry Distillery owners Andrew Mosiman and Christie Wanderer got into the distilling business.
Five years ago, the Forge & Foundry co-founders decided to begin pursuing the idea of a distillery. After living in San Diego while serving in the U.S. Navy, Mosiman moved back to his hometown of Stillwater with his wife Wanderer, who was born and raised in Los Angeles. Mosiman had homebrewed for a number of years and was looking to break into the craft beverage industry in one form or another.
"We've always loved going to distilleries," Wanderer says. "Everywhere we would go we would seek out distilleries because I like distilled spirits over beer. He likes both. Five years ago, there weren't as many as now."
The couple slowly started putting a business plan together and scouting for locations in Stillwater's iconic downtown. However, they quickly found the options for spaces were limited.
When they pursued Stillwater's old armory building, the bank turned them down due to the fact the building didn't have a parking lot. Other spaces couldn't accommodate the necessary distilling equipment. Eventually, they found the perfect building when the former Northern Vineyards Winery closed in late 2019.
Located on Main Street, the building was exactly what they wanted. They signed the lease on December 23, 2019. Renovation began with a March 2020 open date in mind.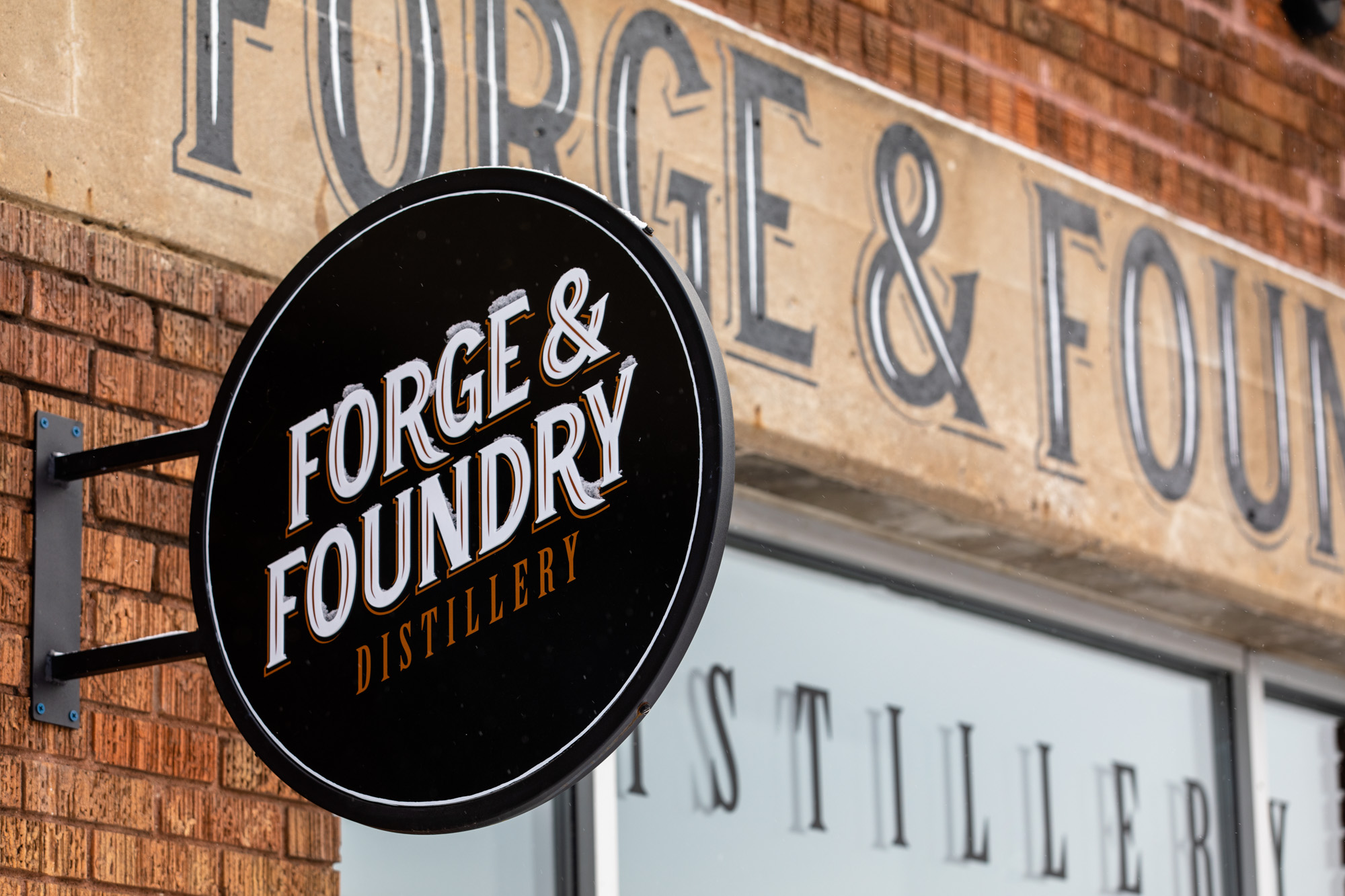 Photos by Jordan Wipf
"The world decided that wasn't the case," Wanderer says. The COVID-19 pandemic hindered the couple more than once.
When they placed an order for their still after securing their location, their order was delayed by the manufacturer, which reallocated the still to a university that purchased it to make hand sanitizer. Wanderer adds that they lost $20,000 on a down payment after a company they bought equipment from went out of business. "Couldn't get the installation done with COVID. Label shortages. It was one thing after another; we had a lot of challenges."
The distillery finally opened on August 6, 2020, and even with intermittent closures due to state COVID-19 restrictions, the distillery has stayed busy by selling cocktail kits.
The couple invested in a 300-gallon still, which will allow them to scale up production. Four fermentors and a mash tun cooker round out the distillery. Forge & Foundry currently offers vodka and rum. Gin and brown spirits, including a straight bourbon, are on the agenda for the cocktail room in the future. When possible, the spirits use local ingredients. Honey and rhubarb used in drinks came from the farmer's market over the summer. Corn for the vodka comes from Hugo.
Forge & Foundry's founders may not have been able to pursue everything they envisioned for their distillery yet, but they hope to achieve their full dreams on the other side of the pandemic. The distillery's name recalls a period of hardship and regrowth in Stillwater that has parallels to today. Forge and Foundry, a defunct company in Stillwater that made ammunition for World War II boats, was a symbol of regrowth when the lumber businesses were beginning to decline. It was something that brought jobs back to the community.
"It just felt like what we were doing," Wanderer says. "My husband said, 'you know what we are, I think we are the spirit of Stillwater.'"
Head Distiller: Andrew Mosiman
Spirits: Vodka, Rum, Straight Bourbon
Location: 223 Main Street N, Stillwater, MN 55082
Hours: Mon–Wed: Closed; Thu–Fri: 5–10 pm; Sat: 12–10 pm; Sun: 12–5 pm