Still have a lot of shopping to do for all the beer and cider drinkers in your life? Us too. While you could just schlep on down to your local liquor store, pick up a couple of singles, toss 'em in gift bags, and call it a day, we think your loved ones deserve something just a little more thoughtful this year. Here are 12 perfect beer and cider gift ideas to lift holiday spirits and put a smile on your favorite drinkers' faces.
Indeed Brewing Company – Fan Packs
Indeed Brewing Company is an OG brewery and taproom in Northeast Minneapolis, and you can see some of that neighborhood's vibrant, artistic culture reflected in the breweries' can designs and merchandise. This year, Indeed has an absolute sleighful of awesome merch packs for you to chose from them. Fans of their Flavorwave IPA or Mexican Honey lager can find whole gift packs themed around those beers with fun throw-ins like orange blossom honey and chapstick. Looking to fill-out your giftee's T-shirt drawer or kickstart their glassware collections? Good news, Indeed's got packs for that too!
Available for taproom pick-up and local delivery until December 24 at 5 pm. Various prices.  
Town Hall Brewery – Signature Flavors gift box
After years cranking out awesome food and beer in Minneapolis' West Bank neighborhood, Town Hall Brewery has rightfully earned a cult following among local beer fans. This box is the ultimate gift for your favorite Town Hall cultist, as it comes with four Crowlers, plus Town Hall's pancake mix, bourbon barrel-aged maple syrup, cocktail mixers, glassware, and specialty brats from Northeast Minneapolis Ukrainian food market Kramarczuk's.
Available for taproom pick-up and local delivery while supplies last. Price is $120.  
Wild State Cider – Cider Essentials Gift Box
Give your favorite ciderhead a taste of the North Shore with this Essentials box from Duluth's Wild State Cider. Each handsomely designed package features 16 12oz cans of Wild State's stellar cider offerings, from their crisp and dependable Classic Dry to their unique fruited infusions like their Raspberry Hibiscus. Also included in the pack are a Wild State koozie and sticker.
Available for taproom pick-up and shipping until December 31. Price is $44. 
Inbound BrewCo – Specialty Sipping pack
Inbound BrewCo is offering a special pair of Belgian-inspired bombers this holiday season with their Rouge Sauvage and Halucidation ales, and to sweeten the deal, they're throwing in a pair of limited-edition stemless glasses sporting their rouge-ified logo when you buy both. Classy bombers + classy glasses = A classy Christmas. It's simple math, really.
Available for taproom pick-up only until December 24. Price is $40. 
Lakes & Legends Brewing Company – Holiday Gift Packs
Prefer a slightly more à la carte approach to your holiday gift pack shopping, check out Loring Park's Lakes & Legends Brewing Company, which is offering a range of gift pack components including glassware, hats, or membership to their Brewer's Reserve small-batch release club. Buy four branded tulips or pint glasses and get a free L&L shirt, or get that same shirt when you buy two knitted hats or beanies. Just interested in the beer? Sign-up for their Brewer's Reserve club and net yourself bonus crowlers and discounts.
Available for taproom pick-up and local delivery until December 31 (Brewer's Reserve deal available until December 24). Various prices. 
Milk & Honey Cider – Cider Sampler pack
St. Joseph, Minnesota's Milk & Honey Ciders is a small but mighty cidery with a reputation for impeccable quality, which means their cider sampler is a must-have for any serious cider aficionado this holiday season. The pack features four of their ciders, from the traditional Heirloom to the aromatic and warming Chagga Chai, plus a 750ml bottle of their brand new Pommeau. What's a Pommeau, you ask? It's a heavily fortified cider that's been mixed with apple brandy, and Milk & Honey got an assist on making theirs from Minneapolis' Tattersall Distilling.
Available for taproom pick-up only until December 23. Price is $40. 
 Bad Weather Brewing Company – Holiday Bundle
Our St. Paul neighbors at Bad Weather are rolling out an ultra-cozy merch pack for the holidays this year, featuring a powder blue beanie, a Nordic-style Bad Weather scarf, a koozie, and a locally-made, hand-spun ceramic mug. While you're picking up your holiday pack, we highly recommend snagging a bomber of their Cherry Creek Belgian Dubbel or their 2020 Calamity Bourbon and Rye Whiskey Barrel Aged Russian Imperial Stout.
Available for taproom pick-up only. Price is $45. 
FINNEGANS Brew Co. – Moveable Feast Party Pack
Whenever and however you chose to hold your holiday feast this year, FINNEGANS will bring the beer with the Movable Feast Party Pack! Stock up with a growler fill of your choice, plus two branded tulip glasses, a set of coasters, and a festive tote bag (never mind that green is FINNEGANS' favorite color all year round). Plus, as always, FINNEGANS donates their profits to local charities, so you can give the gift of beer and help folks in need this holiday season. Beats the heck out of ringing a bell outside in the cold if you ask us!
Available for curbside pick-up until December 23 (Closed Sunday and Monday). Price starts at $42. 
Tilion Brewing Co. – Growler Gift Box
Ready to make that special someone on your gift list feel like a Tilion Bucks? Hook them up with a Growler Gift Box from Tilion Brewing in Cannon Falls, Minnesota! Tilion's pack features a branded growler and a pair of branded nonic pints, plus a punch card that's good for a growler fill of any beer on tap and two pints at the brewery while you wait for the fill (pending local restrictions). You also add on merch and other fun goodies via their web store to help round out the gift!
Available for taproom pick-up until December 23 at 7 pm. Price is $44. 
Minneapolis Cider Company – Mulled Cider Gift Box
There's nothing like mulled cider around a roaring fire to get you into the holiday spirit. Minneapolis Cider Co. is offering everything you need to make a batch of the good stuff with their holiday gift box, which features four cans of their classic Orchard Blend cider, cinnamon sticks, honey, a tin mug and stemmed glass, plus a 750ml bottle of their Appleseed Pomologie spirit to kick things up a notch.
Available while supplies last. Price is $64.99. 
Maple Island Brewing – Maple Island Lover Pack
Stillwater's Maple Island Brewing is keeping it simple with its holiday gift pack offering. The Maple Island Lover pack features two branded pint glasses, two cozy-looking Christmas-colored t-shirts, and an empty Maple Island Growler for you to fill up when you pick up your pack. Don't need the shirts? They're offering a "just the beer" version for the low, low price of $15!
Available for taproom pick-up only until December 24 (Open 12–4 pm). Price is $55.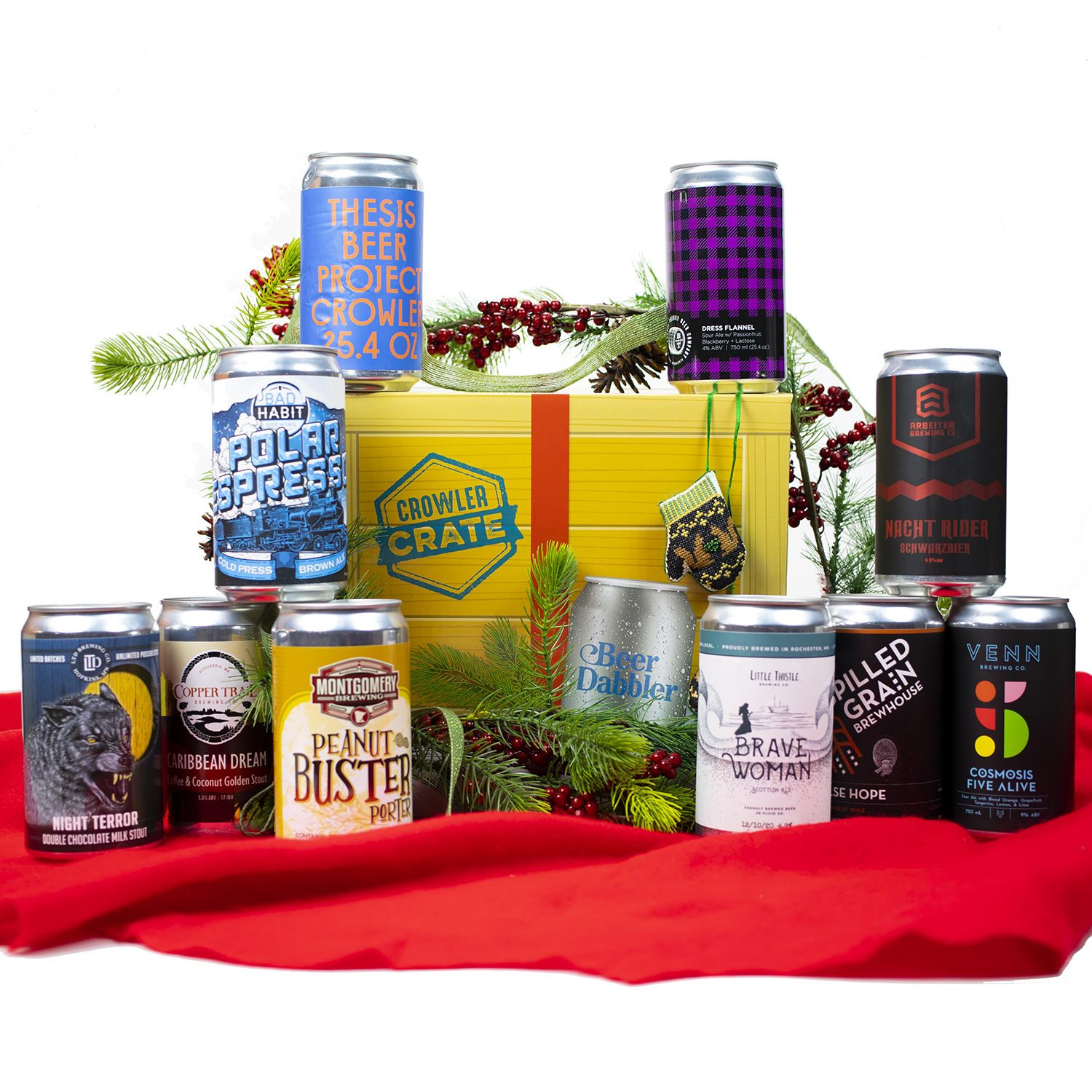 Beer Dabbler – Holiday Crowler Crate
Hey look, we have a holiday gift pack too! Beer Dabbler's Holiday Crowler Crate features 12 limited edition Crowlers from breweries all over Minnesota, including several recipes that were brewed specifically for our Crate. Feeling ambitious and curious? Tackle the whole box yourself this holiday season! Need a bunch of last-minute gifts for your coworkers or drinking buddies? Crowler Crate is a great way to take care of all of your stocking stuffers in one shot!
Available for pick-up and local delivery from Surdyk's Liquor until December 31, or while supplies last. Price is $100.